ANC 'decides Zuma must go'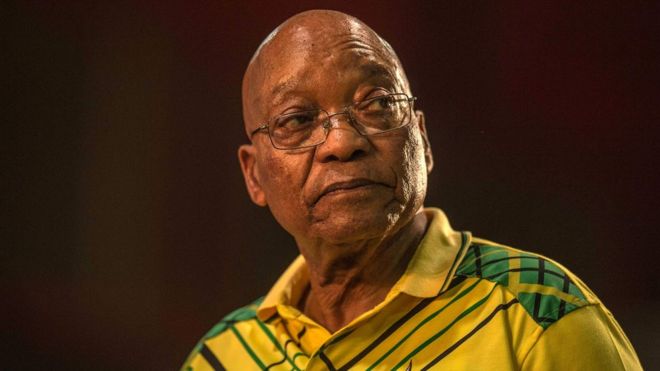 South Africa's ruling African National Congress (ANC) will formally ask for President Jacob Zuma to resign after he refused to do so earlier, reports say.
The reported decision to "recall" him followed marathon talks by senior party officials that continued into the early hours of Tuesday.
If Mr Zuma, 75, still does not budge, he will face a vote of confidence in parliament that he is expected to lose.
In power since 2009, he has been dogged by corruption allegations.
The ANC has not officially confirmed its plans but party sources have described them to South African media outlets and Reuters news agency.
Mr Zuma has resisted increasing pressure to quit since December, when Cyril Ramaphosa replaced him as leader of the ANC.
It is unclear how Mr Zuma will respond to the formal request to step down, which is expected to be issued later on Tuesday.
Earlier, Mr Ramaphosa left the meeting of the ANC's national executive committee to travel to Mr Zuma's residence, where he is said to have told the president he would be recalled if he did not step down.
He later returned to the ANC conclave.